Here's my racing bib. Now, it seems even MORE real that my race is NEXT Saturday.


For some reason blogger wants to load this vertical as opposed to the horizontal way it's been saved...
So now I'm dealing with a few emotions.
I'm nervous

I've never run more than 4 miles on a consistent basis and those consistent 4 miles are a very new thing for me, before that it was only 2 miles.
I don't like crowds, and the starting line is always crowded.

I'm scared

I won't raise at least my goal amount of $2500
I won't be able to make the entire 13.1 miles
About the aftermath to my body after running 13.1 miles
I'm scared I'll let the people down at Children's Hopechest and the Indian Rescue Mission.

I'm thankful

I'm thankful for the opportunity to shed light on a very serious situation in our world.
I'm thankful for the people who are sponsoring me.
I'm thankful for the people who are helping me spread the word about needing sponsors.
I'm thankful for my family & friends who are being so supportive.
I'm thankful that God is taking care of all my needs.
It's crazy for me to be having these feelings because I know that God is in charge of EVERYTHING, but I also know that it's normal for me to have these feelings because, well, I'm human.
Please continue to spread the word and to pray for me, my safety, my health, and for the sponsorships to continue coming in.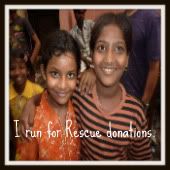 **Click here to donate. Please make sure you put "Elizabeth's 1/2 marathon" in the notes section.**